Professional 3-axis High-precise FOC Program
Stabilizing the Z36T cube is a highly optimized 3-axis camera gimbal with pinpoint-precise motor rotation with a control accuracy of ±0.01° powered by a dedicated processor. Rather than rely on electrical slip rings - as is common with many gimbals - the Z36T cube uses a unique mechanically limited design and concealed wires to ensure more stable data transmission and greater durability. Vibration is eliminated using four damping balls and a lightweight damping board, creating seamlessly smooth video 360°rotation remains possible through gimbal rotation. Stable, smooth footage image can be captured even at high speed moving.
36x Optical Zoom Starlight Camera
Powered by 1/2'' Sony IMX385LQR-C SENSOR CMOS module, with color 0.001Lux, B/W 0.0002Lux(1/1s,77.7dB), starlight level ultra-low illumination, can still clearly display image features in the poor light environment.The camera has 2.13 Mega effective pixels, supports 36x optical autofocus, and HD 1080P video recording.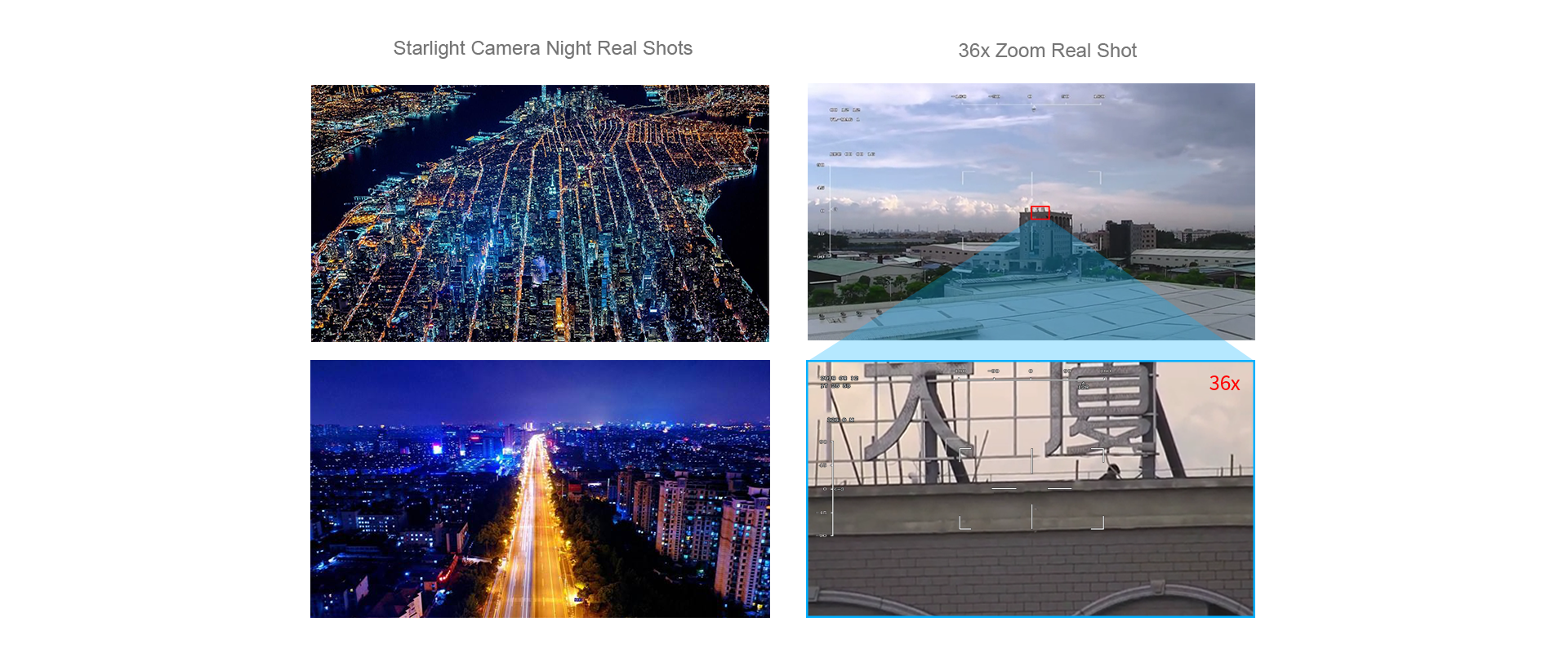 Single Sensor Visible Light Camera Object Tracking
Build-in normalization, cross-correlation and tracking algorithm, combining with object missing recapture algorithm, achieve stable track of the target. Support custom characters of user OSD, adaptive gate, cross cursor, trace information display. The tracking speed is up to 32pixel/frame, object size range is from 32*32 pixel to 128*128 pixel, with the minimal signal-to-noise ratio (SNR) 4dB, the mean square root values of pulse noise in the object position < 0.5 pixel, which greatly improve the accuracy and tracking effect.

Multi Output Methods Optional
Z36T cube support both HDMI output, Ethernet/IP output and SDI output. HDMI and output are 1080p, Ethernet output defualt as 720p and record is 1080p. IP output and SDI output versions will support 360degree enless pan.


Multi Control Methods
Defualt PWM and Serial port TTL control, SBUS is optional, IP output version also support TCP control via ethernet cable. With Viewpro software Viewlink you can fulfill IP output, TTL control and TCP contorl.

Control box signal interfaces:

Compatible with Viewport
Z36T cube is compatible with Viewpro quick release connector Viewport. Viewport is an option known as easy assembly, plug and play.

Applications
"Our primary focus is on supplying equipment for various purposes such as firefighting, power tower maintenance, pipeline inspection, and search and rescue operations. Emergency situations demand a broad spectrum of monitoring and search capabilities to swiftly assess the situation and enhance response efficiency."

Specifications
Hardware Parameter

Working voltage

16V

Input voltage

4S ~ 6S

Output voltage

5V (connect with PWM)

Dynamic current

580~1150mA @ 16V

Working environment temp.

-20

℃

~ +60

℃

Output

micro HDMI(1080P 60fps) / IP (RTSP/UDP 720p/1080p 25fps/30fps) / SDI (1080P 30fps)

Local-storage

SD card (Up to 512G,class 10, FAT32 format)

Photo storage format

JPG(1920*1080)

Video storage format

MP4 (1080P 30fps)

Card reading online

SMB read / HTTP read

Control method

PWM / TTL / S.BUS/ TCP (IP output version) / UDP(IP output version)

Geotagging

Support, display time and GPS coordinate in picture exif

Gimbal Spec

Mechanical Range

Pitch/Tilt: ±120°, Roll: ±70°, Yaw/Pan: ±300° / ±360°*N (IP output version)

Controllable Range

Pitch/Tilt: -45°

~

115

°, Yaw/Pan: ±290° / ±360°*N (IP output version)

Vibration angle

Pitch/Roll: ±0.02°, Yaw

:

±0.02°

One-key to center

√

Camera Spec

Imager Sensor

1/2" Sony IMX385LQR-C CMOS Sensor

Picture quality

Full HD 1080 (1920*1080)

Effective pixel

2.13M pixels

Lens optical zoom

36x, F= 6.0mm ~ 216.0mm

Digital zoom

Digital x32 Zoom

Angle of View (D, H, V)

Wide: 63.31° 56.5° 33.63°

Tele: 2.44° 2.12° 1.19°

Sync system

Progressive scanning

S/N ratio

more than 50dB (AGC off)

Min. illumination (50%)

Color(1/30s, 77.7dB) : 0.01 lux , BW(1/30s, 77.7dB) : 0.002lux

Color DSS(1/1s, 77.7dB) : 0.001 lux , BW DSS(1/1s, 77.7dB) : 0.0002 lux

Gain

Auto

White balance

Auto / One Push / Manual / Indoor / Outdoor / Auto-Ext

Shutter speed

1/30(25) ~ 1/60,000 sec

Brightness

0 ~ 20 steps

Aperture control

0 ~ 20 steps

Defog

Yes

OSD

Yes

Camera Object Tracking

Update rate of deviation pixel

50Hz

Output delay of deviation pixel

5ms

Minimum object contrast

5%

SNR

4

Minimum object size

32*32 pixel

Maximum object size

128*128 pixel

Tracking speed

±48 pixel/frame

Object memory time

100 frames (4s)

The mean square root values of pulse noise in the object position

< 0.5 pixel

Packing Information

N.W.

930g / 992g(Viewport Version)

Product meas.

187.6*105.3*180.6mm /187.6*105.3*186.3mm(Viewport Version)

Accessories

1pc gimbal camera device, 16pcs screws, 4pcs copper cylinders, 12pcs damping balls, 4pcs damping boards / Hight quality plastic box with foam cushion

G.W.

3112g

Package meas.

360*300*250mm